Earth System Governance Speaker Series
& Kick-Off Event of the GLOBALGOALS Webinar Series
APRIL 29th, 2021 – 16:00-17:00 CEST
This joint webinar of the GLOBALGOALS Project and the Earth System Governance (ESG) research alliance features a roundtable of senior experts discussing the challenges and opportunities related to the SDGs in times of COVID-19, and launches the Sustainable Development Goals Taskforce within the ESG project kicks-off as well as the webinar series of the GLOBALGOALS Webinar Series.
We brought together more than sixty international scholars in the SDG IMPACT ASSESSMENT to jointly evaluate whether the Sustainable Development Goals had had any impact in global, national, or local governance. The SDG Impact Assessment will be published in March 2022 by Cambridge University Press. In the upcoming months we will present the key findings of the Assessment in our GLOBALGOALS Webinar Series. We are happy that the ESG Project is supporting this endeavour with the institutionalisation of the Sustainable Development Goals Taskforce. The Earth System Governance Speaker Series on April 29, 2021 will mark the launch of both of these projects.
Roundtable discussion
The ongoing pandemic affects the global endeavor to achieve sustainable development and may substantially defer the achievement of many targets defined in the SDGs.It is still an unresolved global crisis with huge impacts on daily lives, especially of the global poor who struggle to meet their basic needs. At the same time the crisis creates new possibilities for reshaping our common future. The Sustainable Development Goals, and the overarching 2030 Agenda for Sustainable Development, may bring the shared transformative vision and provide much needed guidance for rebuilding infrastructures, reforming the global economicsystem, and revitalizing global cooperation. The pandemic also underscores that the largest challenges of humanity cannot be dealt with in isolation. Yet the extent to which governments and other stakeholders are embedding the principles and guidelines of the 2030 Agenda in their recovery plans is still largely unclear. In this roundtable we are discussing the conditions under which the global goals can steer an inclusive, cooperative, and sustainable global recovery.
Panelists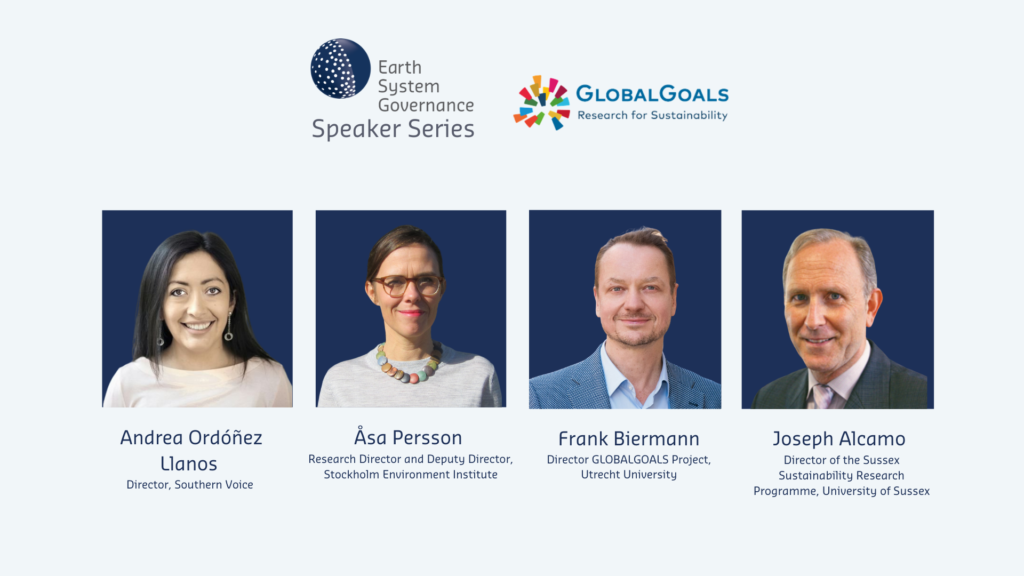 Moderators:
Thomas Hickmann – Post-doctoral Researcher GLOBALGOALS Project and Co-Editor of the SDG Impact Assessment
Carole-Anne Sénit – Post-doctoral Researcher GLOBALGOALS Project and Co-Editor of the SDG Impact Assessment
Host:
Gustav Thungren – Managing Director Earth System Governance Project
Date:
Thursday, April 29th, 2021, 16:00-17:00 CEST via Zoom